Top 5 Car Suspension
April 23, 2020
BC Racing BR Series Coilovers
The BR Series Model is the perfect choice for street driving and the occasional road course or autocross duty. With easily accessible adjustment knobs for fine-tuning compression and rebound, ride height adjustment independent of shock stroke and spring preload, having a performance coilover system has never been easier. The driver chooses how low or high the vehicle sits
Tein Flex Z Coilovers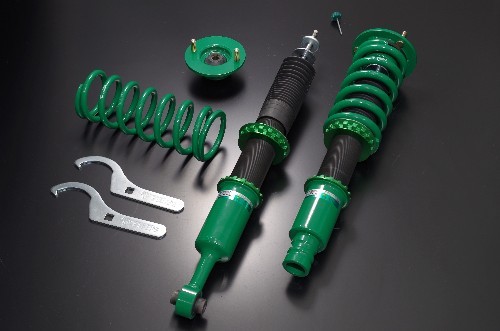 Tein Coilovers can be one of the best bang for your buck coilovers on the market. They offer adjustable ride height and damping so that you can choose how low you want to go and how stiff you want your suspension to ride. These would be perfect for an entry level set of coilovers.
Fortune Auto 500 Series Coilovers
The Fortune Auto 500 Series Coilovers are Fortune Auto's answer to a daily driver friendly high end, bespoke coilover system. Designed and assembled in the USA, all Fortune Auto Coilovers offer a level of customization and quality rare within the automotive industry. Fortune Auto has taken a different approach to coilover systems, rather than an out-of-the-box setup customers are able to cater their coils to their individual needs from spring rates to miscellaneous performance upgrades. Fortune Auto coilovers are some of the best coilovers in the business.
Eibach Sportline Springs
If you re just looking to lower your car and don t need all of the fancy adjustments or track ready performance, lowering springs might be just what you need. The Eibach Sportline Springs are significantly cheaper than coilovers since they don t offer any adjustability. Simply throw them in and your car is lowered on a budget!
BC Racing DS Series Coilovers
Finally we have another set of BC Racing coilovers but this is their DS Series. This series allows for even more adjustability than their BR series and offers a smoother ride. These are some of the best coilovers produced by BC Racing. If you find yourself doing a lot of high performance driving in the future, these will definitely be worth the investment.